What do you get when you sit down with three, oops, make that four, of the funniest actors in Hollywood? Total craziness.

Sandra Bullock, Thomas Haden Church and Bradley Cooper sat down to chat with the Dish Rag about their new comedy "All About Steve." It started out smoothly enough. Ken Jeong was MIA because he was reportedly working. But suddenly Ken showed up!

"This is the piece of the puzzle!" Sandra screamed, hugging him.

All About Steve (2009) » Online Interviews: The Envelope's LA Times
I would like to thanks to Elya for sending in this scans to us. It's from Russian InStyle, June-July issue.

Magazines: InStyle Russia – June/July 2009
Sorry for the lack of updates here, after a period of issues in my computer, I'm able to continue bringing you news on Sandra.
I added the scans of latest Glamour issue, which bring us with amazing pictures of Sandra.

Magazines » 2009: Glamour, June 2009
Sandy presented the "Best Kiss" award, with her "The Proposal" co-star Ryan Raynolds. The winners awards was Robert Pattinson and Kristen Stewart.
Did you missed the show? So here's the video. Screencaptures are on the way.
Sandra Bullock looks very young and beautiful on cover of Glamour magazine July 2009. She poses in a plaid shirt and blue jeans, showing off her splendid body.
The magazine bring us with an interview with Ms. Bullock. Here's a preview:
About Doesn't like talking to the media about the charities she gets involved with:
No. It's none of their business. I don't want to be seen as the kind of person who does things and then expects publicity in return. I look at it as, I happen to have the means, I have the energy and I have the passion to do what I want to do.
Read the full article here at Glamour website
Thanks to Colleen, I have added the scans of Sandra in the latest In Style Magazine!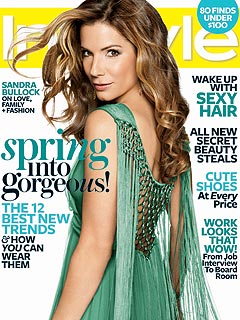 More than three years into her marriage to Jesse James,
Sandra Bullock
says she enjoys being a stepmom – though she hasn't ruled out having her own children as well.
"I have family in spades," Bullock, 44, tells InStyle for its March issue. The actress's husband has three children – son Jesse Jr., 11, and daughters Chandler, 14, and Sunny, 5 – from two previous marriages.
"Everything we do is about the kids," she says. I haven't had children biologically. I had shut that off; then I met Jesse, and it turned on again. I was like, 'Oh, that's that feeling.' "
But pregnancy isn't on the immediate horizon, says Bullock.
Unconditional Love
"We realized we had to take care of some other things on this planet first," she says. "I hope to God when we get to a place where all is safe, calm, happy and healthy, it's not too late."
Still, she says, "If I waited too long, it's because we were supposed to do other things. If it is just too late? There are millions of children on this planet that I would be honored to call my own."
As for her marriage, the All About Steve star says her husband loves her unconditionally. "Thankfully I married someone who loves me just the way I am – and all the nuttiness that goes into me," Bullock says.
"My greatest joy is making our home what it's supposed to be," she says. "Being a good wife, a good stepmom, a good current wife to the ex-wife. We're a family."
Thanks to my good friend Andrea, I have added a video of Sandra presenting at the Golden Globe Awards. Download it HERE.
The Proposal Trailer is online. You can view it HERE.